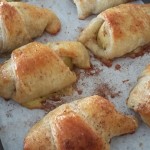 The genesis of this recipe came from TasteMade, but of course I look for ways to reduce sugar and make it easier because in our house we don't seem to need the heavy sugar taste so I omit where I can!
Ingredients:
1 can Pillsbury Crescent Rolls

1/4 cup sugar

1 tablespoon cinnamon

1 med size granny smith apple, peeled and sliced into 8 pieces

1 egg, scrambled
Directions:
Preheat oven to 400 degrees.
Peel and cut apple into 8 slices.
Lay out sheet of parchment paper on cookie sheet and spread out the Crescent roll triangles.
Sprinkle sugar and cinnamon on each apple.
Roll a slice of apple in each triangle, starting with the widest end. Brush with egg wash.
Bake for 12-15 minutes until crust is golden brown. Remove from oven and cool for 5 minutes.
I'll see you at the table!