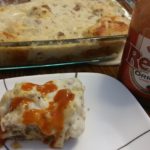 This is an easy to make breakfast casserole. These days, I'm all about easy, tasty, and healthy. I wouldn't put this dish in the healthy category though! It was a hit for teens, preteen and parents alike.
Ingredients:
1 12-oz tube refrigerated biscuits
6 eggs
1/2 cup milk
1/2 tsp pepper
1/2 tsp salt
1 lb cooked sausage – I used maple and the touch of sweetness was really yummy
1 cup shredded cheese
For the gravy:
4 Tbsp. butter
4 Tbsp. flour
salt & pepper to taste
2 cups milk
Directions:
Cook sausage in pan. Instead of links, I used tube of Jimmy Dean so was crumbly and easy to spread in dish.
Cut each biscuit into 8 pieces. Set aside.
In a bowl, mix the eggs, 1/2 cup milk, 1/2 tsp salt, and 1/2 tsp pepper. Set aside.
In a saucepan, melt the butter. Stir in flour, salt, and pepper, and slowly add the 2 cups of milk. Simmer, stirring, until it's thickened. This can burn easily so keep stirring. Should only take 2-3 minutes.
In a greased (I sprayed a light layer of Pan) 9×13 glass baking dish, layer the biscuits, sausage, cheese, egg mixture, and gravy.
Bake at 350°F/180°C for 35-45 min, until the eggs on the bottom are cooked.
Allow to cool 5 minutes, if you can wait that long!
Serve with Frank's Red Hot sauce for an awesome vinegar-y kick. Enjoy!
I'll see you at the table!