21 May, 2017
Comments Off

on Cherries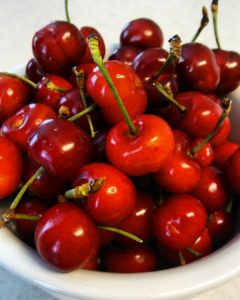 Cherry season is here, heralding summer! A few ways to enjoy this little treat:
🍒 Keep a bowl on the kitchen counter for a quick sweet treat.
🍒 Cut in half, pitted then add to green salad with nuts.
🍒 Add to pancake batter.
🍒 Add to stuffing for side dish.
🍒 Sprinkle on granola.
🍒 Layer with yogurt.
Thank you cherries for showing up – you sweet little round packages of delight!
I'll see you at the table!