I could probably eat soup everyday of my life! Creamy soups, broth soups, stews and chilis… doesn't matter what type of soup it is, I just love them!
Here's a favorite soup from Taste of Home that everyone enjoys in our household, the Creamy Cauliflower Soup. Not cheesy like the Cream of Broccoli version, rather healthier with more veggies. Also, this recipe is easily doubled and makes great left overs.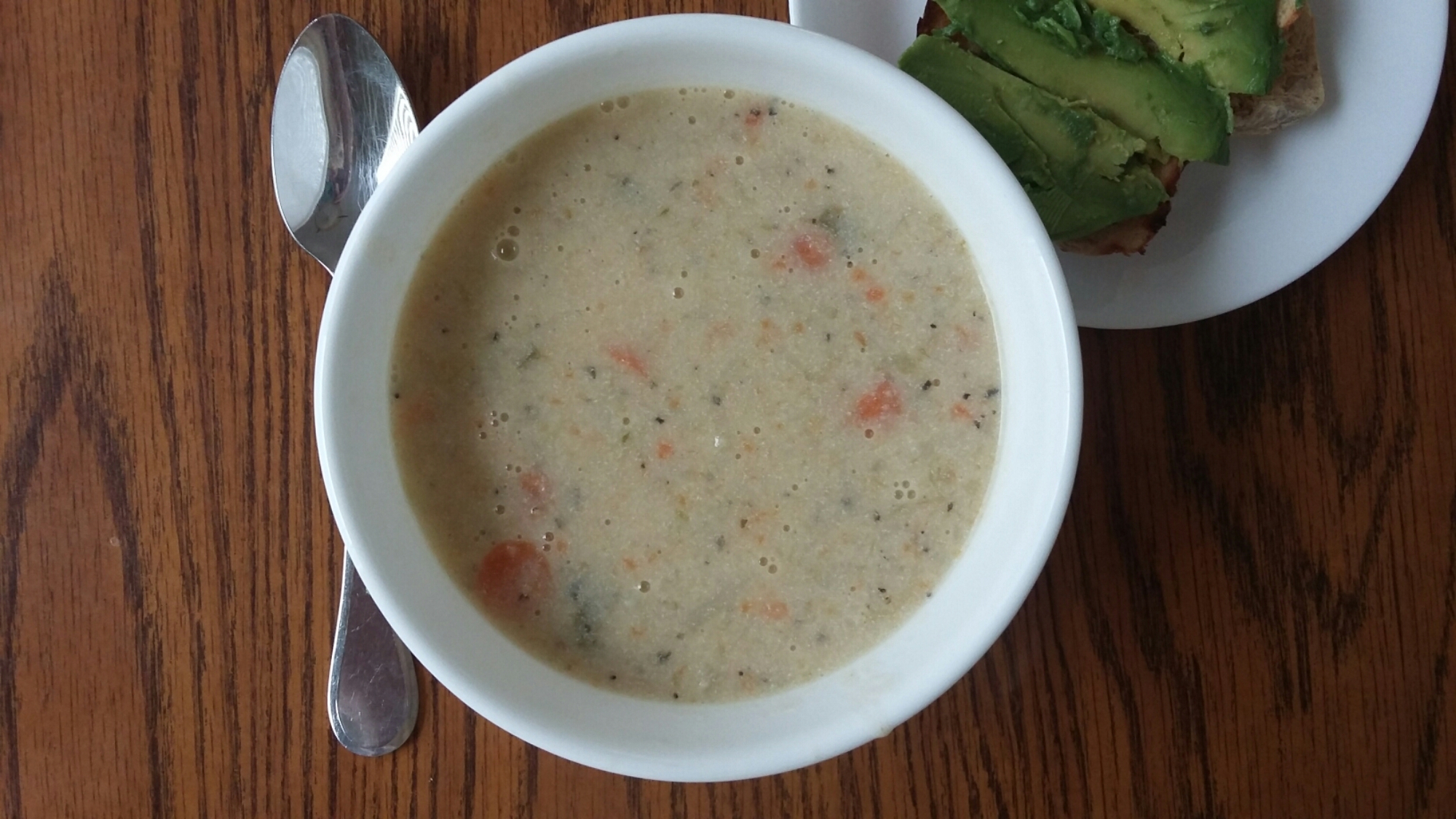 Ingredients:
1 large head of cauliflower, cut into small pieces
2 medium side Russet potatoes, cubed (Jen's Note: I've also added roasted parsnip before and that was a hit with the family!)
1 large yellow onion, small dice (Jen's Note: or use 1/2 cup dehydrated onion and add 1 cup additional water for broth)
3 carrots, peeled and cut into 1/2″ pieces (Jen's Note: or use 1 cup dehydrated carrot and add 1 1/2 cup additional water for broth)
6 celery stalks, cut into half-inch pieces (Jen's Note: I love celery, so often I use 10 stalks and use the leafy tips)
1 tablespoon dried basil
2 teaspoons salt
1 teaspoon black pepper
2 bay leaves
1 teaspoon dried thyme
8 cups chicken broth, may substitute vegetable broth
6 tablespoons all-purpose flour
1 cup milk
1/2 cup heavy whipping cream
1/4 cup sour cream
Fresh tarragon, optional (Jen's Note: I never use this)
Directions
In a soup kettle or Dutch oven, sauté the onions, carrots, celery and garlic in 1/4 cup butter until tender. Add cauliflower, potatoes, broth, parsley, salt and pepper, basil and tarragon. Cover and simmer for 30 minutes or until the vegetables are tender.

Meanwhile, in a saucepan, melt the remaining butter. Stir in flour until smooth. Gradually stir in the milk and whipping cream. Bring to a boil; cook and stir for 2 minutes or until thickened. Add to cauliflower mixture. Cook for 10 minutes or until thickened, stirring frequently. Remove from the heat; stir in sour cream. Garnish with tarragon if desired.

Yield:

8 servings (about 2 quarts).
If you want a creamier version, remove 1/3 of the mixture and blend until creamy in a high powered blender. Just remember that hot soup will explode easily in the blender, so cover tightly and only pulse blend.
Serve with rolls and a leafy green salad for a healthy meal. Looks great in bread bowls for a more robust dish. Enjoy!
I'll see you at the table!