5 December, 2017
Comments Off

on Gnocchi with Vegetable Marinara Sauce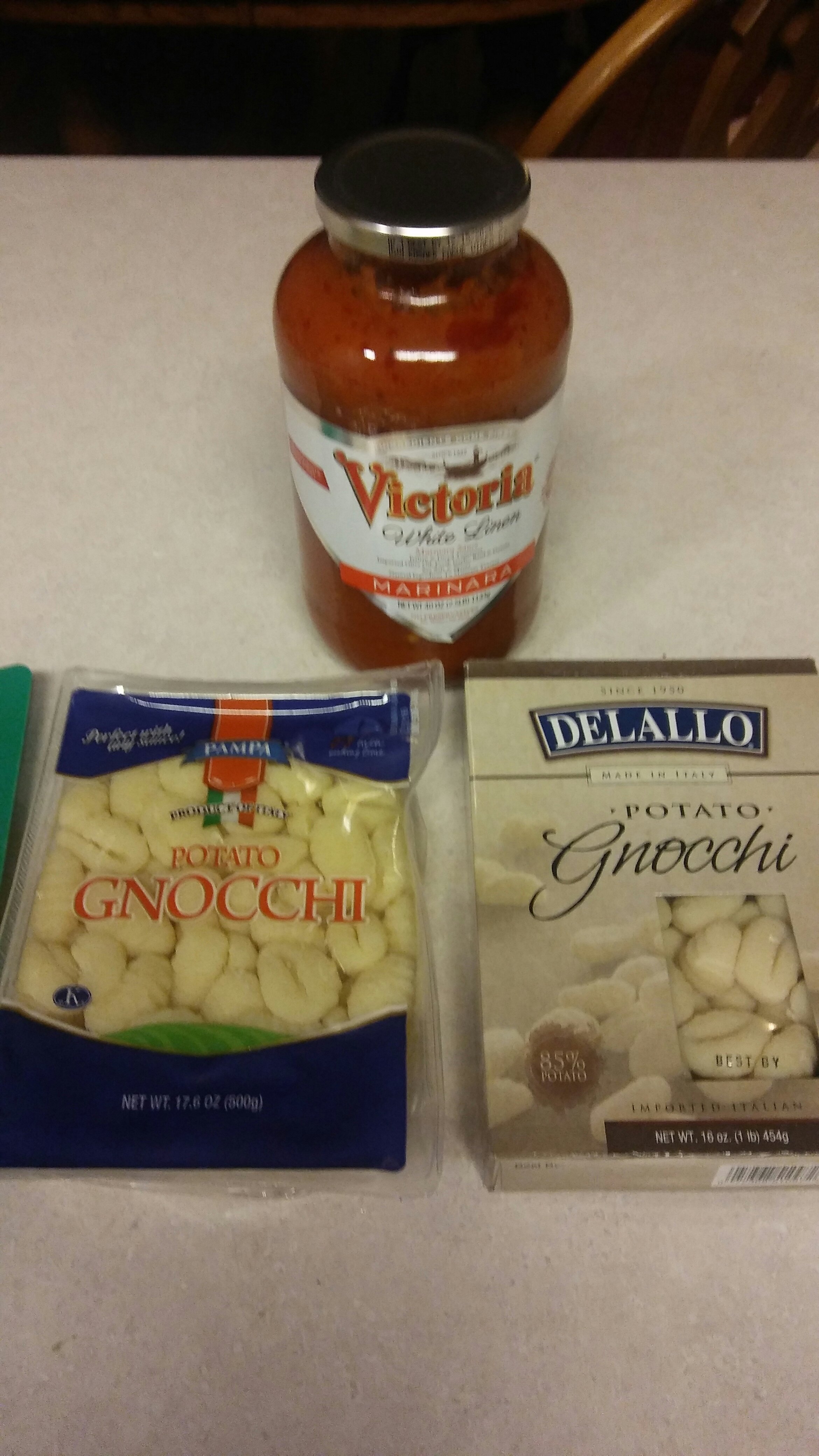 For an easy weeknight dish, this gnocchi dish is easily customizable based on your family's eating preferences. We eat primarily vegetables, but you can easily add meat to this delicious dish. The toddler, teenagers and hubby like this dish – woot!
Serves: 4 (can be doubled)
Ingredients:
1 package gnocchi (Showing couple options in picture above. Don't stress about the brand.)
1-40 oz spaghetti sauce (I like Victoria from Costco. No additives, simple basic ingredients and most like my husband's killer spaghetti sauce, but quicker!)
1 small yellow onion, medium dice
1 head broccoli, cut into small florets
1 bell pepper, small dice
1 medium zucchini, medium dice
4 cloves garlic, roasted
1/2 tablespoon salt
1/2 tablespoon black pepper
1/2 tablespoon Italian seasoning
2 tablespoon olive oil
Directions:
On medium heat, roast garlic in medium sized soup pot. Simply place the garlic (with skin still on) on the bottom of the pan – no oil. Turn the garlic every 2-3 minutes until soft to the touch. I prefer to use tongs so doesn't burn my fingers and it's easily enough to feel the softened garlic clove. On average seems to take about 7-8 minutes total roasting time. Remove garlic cloves and let cool for a few minutes. This step is really helpful for any recipe using garlic. You can omit if your family doesn't like garlic, but give this a try to see what your family thinks of the more mild flavor of roasted garlic.
In the same pot, on medium heat, add olive oil and onions. Stir to avoid sticking. Cook about 4 minutes, until onion is starting to turn translucent. [Meat lovers: Add 1 lb Italian sausage to cook with the onions.]
While the onion is cooking, peel garlic and use back side of small spoon to smash inside a small bowl.
Add bell pepper, zucchini, smashed roasted garlic and spices. Stirring every few minutes to avoid burning. Cook for about 5-7 minutes until the zucchini is softening slightly.
Slowly pour in red sauce, add the broccoli and stir to combine. Turn heat down to low and simmer covered for 30 minutes. [Spice lovers: This is a good time to add a little crushed red pepper flakes to spice up your sauce.]
Cooking gnocchi is super fast – even faster than ravioli. I always cook it at the very end and then serve immediately. To cook, boil water in medium pot, add package of gnocchi and stir to not allow to stick to bottom of pot. Gnocchi is done when floats to surface of water. Drain and add to your sauce pot. Stir to combine. I usually cook two packages of gnocchi because it tastes so good we want seconds and we like left overs for lunches.
Transfer to serving bowl.
Serve with big green salad and crusty bread. Enjoy!
Optional toppings: grated parmesan cheese, chopped fresh parsley, more crushed red pepper if your humans really like the spice.
I'll see you at the table!