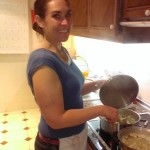 While traveling, I look for places to stay where I have access to a kitchen which allows me to cook healthy food and save money from eating out all the time. A pot of soup that is ready to eat whenever I'm hungry is a great way to eat healthy too.
On the first night of this two week trip to Spain, I headed to the grocery store and bought several items to sustain me for a few days. Perhaps I bought too much because while walking home, several times I had to set the bags down in order to give my arms a break!
Cooking for someone else can be interesting too because they don't always like what you like to eat. But, luckily my travel partner is game to try anything I will cook on this trip. She is curious to know what it would be like to try some recipes that don't have sugar, oil nor salt.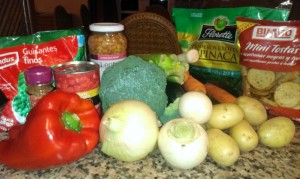 Lentil Vegetable Soup: (Yield: 2 quarts)
Ingredients:
Half red bell pepper, diced
Half broccoli head, rough chop
Half yellow onion, diced
2 clove garlic, minced
2 small turnip, diced
5 small yellow potatoes, diced
2 carrots, peeled and diced
1 stalk leek, white end sliced in 1/4 inch rounds
2 medium zucchini, diced
3 stalk celery, diced
1-12oz can diced tomatoes
2 cup cooked lentils
2 cup frozen peas
2 tablespoon Italian seasoning
Directions:
Using a large soup pot, on medium high heat, water sauté the onion for about 5 minutes.
Add garlic and leek, continue water sauté for 3 minutes.
 Add carrot, celery, bell pepper, continue water sauté for 3-5 minutes or until celery is soft.
Add broccoli, zucchini, can diced tomatoes, lentils and seasoning. Stir thoroughly and bring to soft bubbling boil.
In a separate pot, boil diced potato and turnip for 10-15 minutes until soft. Strain and add to vegetables when they have reached the soft boil. Stir to thoroughly incorporate.
Using a handheld blender, purée about 1/3 of the soup mixture. If you don't have a blender, then you can enjoy a chunkier style.
Add the frozen peas, turn down heat to low and simmer for 20 minutes, stirring occasionally.
If you want it spicy, add 1 teaspoon dried chili pepper flakes.
Serve  hot with bread or toasts. For a fuller meal, add a green salad and fruit for dessert. Enjoy!
Note from my travel companion: She added salt because is accustomed to eating food with added salt, but overall loved the soup and ate several meals from this one pot. Guess she liked it!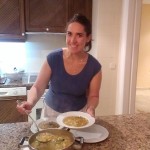 In the comments section below, let me know what you think of the recipe. Thank you!
Healthy food close to home and far away tastes great and fuels your body to have the energy to enjoy the trip. I'll see you at the table!