1 April, 2017
Comments Off

on Recipe: Stuffed Bell Pepper and Steamed Asparagus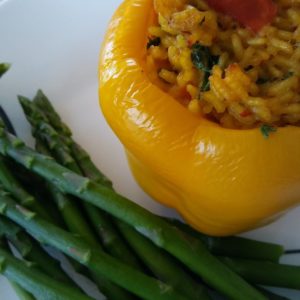 Healthy veggie based meal: stuffed bell pepper and steamed asparagus.
Ingredients:
4 yellow bell peppers, tops cut out and seeds rinsed out
1 package of saffron rice, prepared per package directions
1 roma tomato, small dice
1 zucchini, small dice
1 small yellow onion, small dice
3 clove garlic, minced
1/4 cup fresh parsley, chopped
Olive oil
Directions:
1. Preheat oven to 375 degrees
2. Cook saffron rice per package directions
3. On medium heat, saute onion and zucchini in olive oil or water for 5 minutes, then add tomato and garlic and saute for 1 minute.
4. Add cooked rice, parsley to zucchini mixture and stir to combine. Using a tablespoon, scoop rice mixture into bell peppers.
Note: You can use other bell peppers, but I prefer the mild, sweeter flavor of yellow.
5. Place 4 stuffed bell peppers into 8×8 glass baking dish. Add water around the outside of peppers, 1/3 the way up the pepper.
Note: If you're preparing ahead of time, store in refrigerator for up to 2 days, covered in plastic wrap. Add water when ready to bake.
6. Bake uncovered for 45 minutes, or until the skin of peppers begins to wrinkle. If your peppers are really thick, you may need 5-10 more minutes. Better to over bake than under bake.
7. Serve with steamed asparagus.
For a more robust meal, serve with crusty bread and large green salad.
I'll see you at the table!