2 April, 2017
Comments Off

on Refried Beans Enchilada Casserole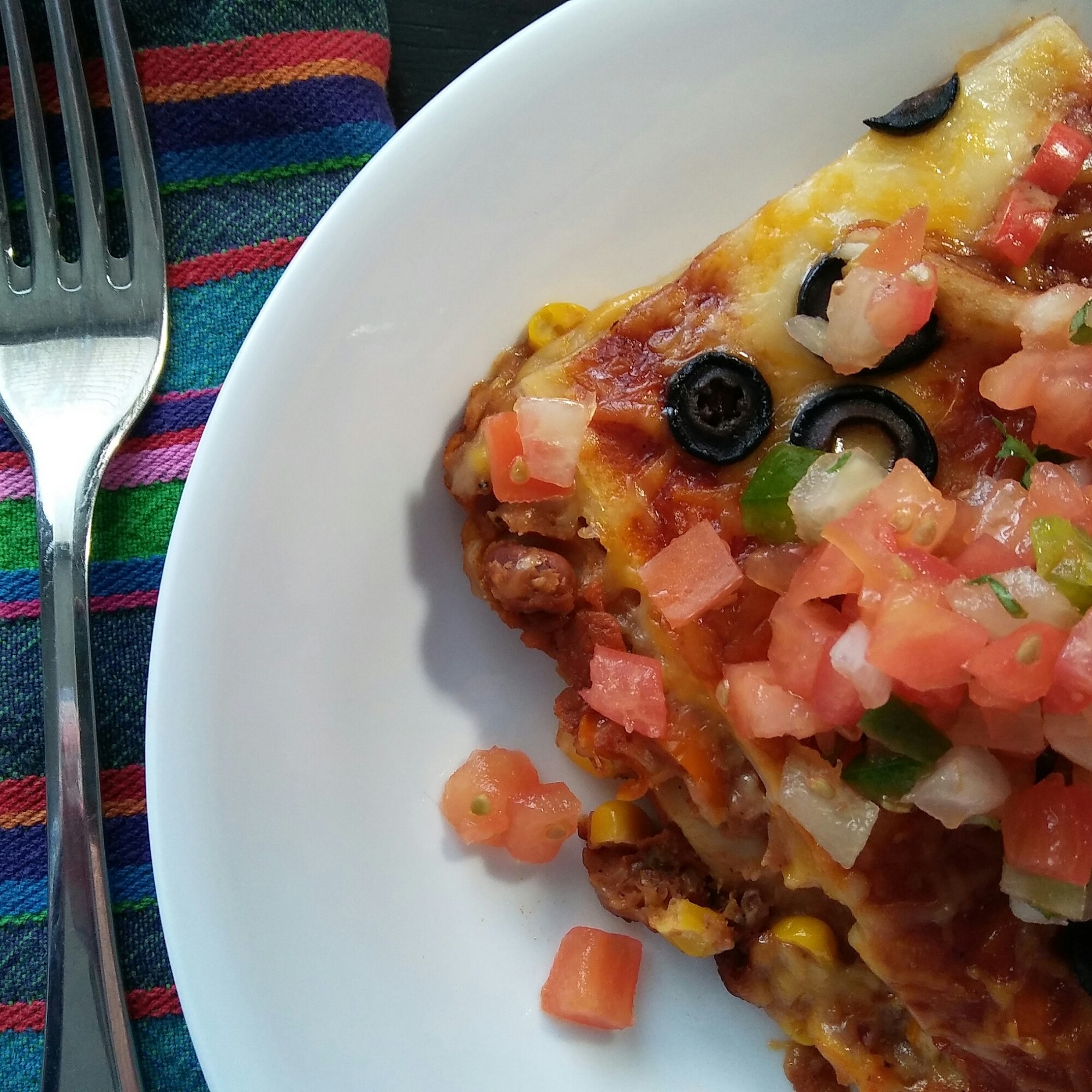 ​Refried Beans Enchilada Casserole with pico de gallo salsa… Yummy dinner and leftovers.
Ingredients:
2-14oz cans of your favorite enchilada sauce
8 Large flour tortillas, cut in half
2-14oz cans of your favorite refried beans
1 large red bell pepper, diced
1 large white onion, diced
1 cup black olives, sliced
1-14oz can corn, drained
1-14oz can diced tomatoes, or 3 fresh roma tomatoes, diced
2 tablespoons cumin
1/4 teaspoon chile powder
Your favorite pico or other chunky salsa
Directions:
1. Preheat oven to 350 degrees.
2. Pour one can of enchilada sauce bottom of 9×13 glass baking dish.
3. On medium heat in pot, water saute onion, bell pepper, garlic for 5 minutes, then add refriedbeans, cumin, corn, tomatoes, chile powder and heat through- about 5 minutes
4. Place 4 tortilla halves with flat edge against sides of dish. Ladle 2 cups of bean mixture and spread over tortillas.
5. Repeat 3 times.
Note: For vegetarian option, sprinkle 1 cup Mexican cheese blend on top of bean mixture at each layer.
6. Add last layer of tortillas, then pour other can of enchilada sauce over top. Sprinkle #olives. Bake uncovered for 40 minutes.
Serve with heaping scoop of pico de gallo salsa or other garnish. Pairs well with greensalad and vinaigrette salad dressing. Makes great left overs too!
Optional garnishes:
Sourcream
Cilantro
Guacamole
Avocado slices
I'll see you at the table!