4 June, 2017
Comments Off

on Restaurant Review: Tosh's Ramen – SLC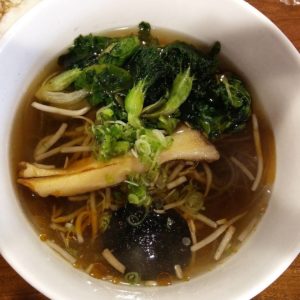 Restaurant Review: Tosh's Ramen in SLC ⭐⭐⭐
Dishes:
Vegetarian Ramen with vegan yam noodles (3/5 ⭐)
Vegetables included baby bok choy, two different mushrooms, bean sprouts and green onions – the best was the marinated shiitake mushroom. Vegetable broth was pretty robust for vegetable broth. The yam noodles were the weird chewy kind and not enough. Definitely not enough food to be a complete meal on its own.
Vegetarian Gyoza (3/5 ⭐)
More of a pot sticker, the gyozas were filled with diced cabbage and onions. Pan fried too much for my liking and making it difficult to bite in half. The dipping sauce was a tart garlic soy sauce very strong flavor.
Vegan: 👍
Vegetarian: 👍
Meat lover: 👍
Gluten free: 👎
Family friendly: 👎
👎High chair missing clips to actually keep toddler in seat
👎Foul language rock music
Hubby: 👍 Enjoyed the spicy pork ramen
Return: Yes. I will have them custom make ramen #soup next time. No toddler either.