Happy holidays! Face it, you're going to eat a lot of bad for you food during the holidays. With all the butter, sugar, flour and meat products, I think that it's obvious our families are trying to kill us with traditional holiday favorite food. I thought our families were supposed to love us… sheesh!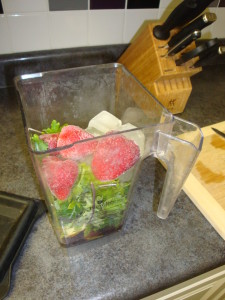 Since the calories are going to happen, aim to eat healthy with any possible meal. For example, have a green smoothie for breakfast so that way you'll get your leafy greens and fresh fruit taken care of first thing.
Easy Green Smoothie Recipe: (serves 2)
5 oz leafy greens (kale, spinach, collard)
3 pieces of fruit
2 cups ice
1 cup fruit juice
1 cup water
Blend until creamy
Make wise choices and you'll feel better… which in turn will help you to enjoy the holidays more!